By compassionate caregivers and senior helpers.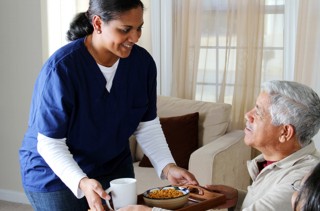 A Better Living Home Care can help your loved one live independently at home for many years to come. Experienced caregivers and senior helpers can provide specialized attention, care and assistance needed. A professional, reliable in home caregiver can help you or your loved ones living with dementia and Alzheimer's enjoy the freedom and security you deserve. Contact us today to live independently tomorrow.
Living with Dementia and Alzheimer's
Don't go it alone. If your loved one is living with the effects of Alzheimer's, or other forms of dementia, it can take a tremendous toll on your own physical and emotional well being. We understand the unique challenges that Alzheimer's, and other forms of dementia present to family caregivers, and their loved ones. The professional caregivers we send to our clients homes are patient, respectful, and compassionate. In home caregivers or senior home caregivers from A Better Living Home Care provide care and assistance through all stages of Alzheimer's and dementia.
In fact, very few individuals ever need to be placed in a facility environment as long as there is a qualified caregiver providing essential in home care. Most people mistakenly think that one on one care at home is too expensive, when it actually is a very cost effective alternative to facility based care (Cost Comparison of In Home Care & Assisted Living).
When Does Someone with Dementia or Alzheimer's Need In Home Care?
Cognitive Impairment: If an individual has dementia, memory impairment, or is disoriented to the degree that they pose a risk to themselves or others, they need in home care and supervision to ensure their safety. When minimal personal care and mobility assistance is required, an available spouse, family member, or friend may supervise their safety and provide necessary prompting and assistance. When a spouse, family member, or friend is unable to be onsite, or the care needs are significant, consider obtaining the services of a qualified professional caregiver.
Many families have trouble accepting that their loved one needs assistance when the cognitive impairment appears to be mild, and they are otherwise in excellent physical condition. This is an accident waiting to happen. In an emergency, such as a fire from a stove burner that was left on would they know to call the fire department, and exit the home to a safe location? Have they gotten lost? Forget to take their medications, or forget that they took their medications?
Consider what long term care insurance companies do if a claim is filed for cognitive impairment. If a policy holder is cognitively impaired, Long Term Care Insurance companies require no physical disability for the holders to qualify for benefits. If the insurance companies think they need care and are willing to pay for it you should seriously consider in home care.
Dementia Respite Care & Dementia Care Homes
A Better Living Home Care provides, experienced, highly compatible Alzheimer's and dementia caregivers and senior helpers. Many caregivers are highly experienced with every stage of Alzheimer's and qualified to provide care for mild to severe dementias. Their positive attitudes create a comforting atmosphere that dementia and Alzheimer's clients find reassuring. Prompting and assisting with daily routines, medications, personal care, social and cognitive activities, keeps clients active, mentally engaged, independent, and secure in their homes. Our specialized skill at providing highly compatible caregivers experienced with Alzheimer's and dementia care means you can trust A Better Living Home Care to make your loved one's life and yours much easier and more enjoyable!