Our Community of Home Caregivers, Senior Helpers, & Home Health Care Aides
A Better Living Home Care has already screened thousands of professional personal caregivers, senior helpers, and home health care aides. We've selected the best qualified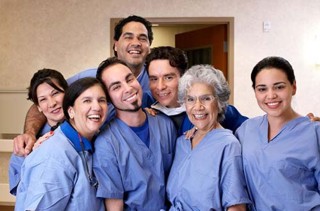 and most experienced to join our community of caregivers. They include: certified nurse's aides, certified home health care aides, personal care attendants, homemakers and companions who are ready, willing and able to help at home.
Sacramento at Home Caregivers
We are dedicated to expertly matching our clients' needs and preferences with the right home caregiver and will arrange a temporary or permanent replacement if one is needed. We back up our dedication with our Compatibility Guarantee. Providing our friends and neighbors with an alternative to nursing home care, the in-home care aides and senior home caregivers are reliable, qualified, compassionate and ready to help at home when you need them.
To ensure we can provide highly compatible caregivers, senior helpers, & home health care aids for our discerning clients and their families, we maintain an extensive roster of professional Sacramento in home caregivers with the range skills and personalities sure to meet their needs.
Certified Nursing Assistant (CNA) – trained in acute, and chronic care situations, and certified by the state of California. CNA's provide the hands on personal care to patients in hospitals, nursing homes, home health care agencies, and home care agency clients. CNA's have the skills to manage challenging care situations.
Certified Home Health Aides (CHHA) – trained to care for acute, and chronic care patients in the home and certified by the state of California. CHHA's provide the hands on personal care to patients of home health care agencies, and home care agency clients. Like CNA's they have the skills to provide high level care.
Personal Care Aides & Attendants – Many have been CNA's or CHHA's and chose to focus on one-on-one care in the home, rather than institutional care settings. Others have gained their skills through prior work experience and training. Ideal when a balanced approach between moderate levels of care, housekeeping & household assistance, companionship, and safety monitoring is needed.
Companion Homemakers – Also called "Senior Helpers" they offer companionship, housekeeping & household assistance, safety monitoring, and less challenging levels of care.
We Only Provide Caregivers, Senior Helpers & Home Health Care Aides We Would Use With Our Own Families
We understand it may be difficult to invite a stranger into your home or the home of a loved one to provide personal care and assistance at home. We take great care in selecting the caregivers we choose to work with our clients.
Each In-Home Caregiver:
Must pass an initial screening before they were invited to submit their qualifications for review.
Must have at least two years of experience in personal care or have been certified as a certified nursing assistant or certified home health aide by the state.
Must pass a personal interview by our experienced staff. (Over the years we have interviewed thousands of caregivers, and know the qualities, traits and skills superior caregivers must possess–and which caregivers to avoid.)
Must complete a skills assessment.
Must possess appropriate experience, education, credentials, training, and/or certifications.
Must have verifiable references.
Must pass our background clearance, including; a criminal records search, driving records search, and a social security number verification.
Must demonstrate they are professional and positive, caring, friendly people that we would be proud to have join caregiver community during the entire process.
If they successfully pass our screening process, they are invited to join our community of care providers, and may be provided to clients.