Get in Touch for Home Care in Davis
Please fill out the form below, a caring staff member from A Better Living Home Care Agency will contact you shortly.
What are the Benefits of Home Care in Davis
Davis Family caregivers get much-needed relief. Family members providing care for loved ones are under-appreciated and over worked. Hiring a caregiver will ease your burden, and provide you time to recuperate, or pay attention to the things you've neglected.
Regain your freedom. Don't be a prisoner to your physical challenges. A caregiver can provide the personal care and assistance you need to preserve your freedom. Set your own schedule and get the help you need at home when it's convenient.
Reduce the time spent on everyday tasks that have become difficult. If everyday tasks like dressing, bathing, housekeeping, shopping and cooking are challenging, or seem to take all your time, it's time to get the reliable help of a caregiver.
Regain your independence. Relying on friends, neighbors and even family members can be uncomfortable, and it can be frustrating. You won't have to rely on the charity of others, or feel you are imposing when you hire a caregiver to help.
It's cost effective. The cost of care for an hourly caregiver working 40 hours per week costs less than the average assisted living facility in the Sacramento area, according to Genworth's 2020 Cost of Care Survey.
Peace of Mind. Knowing your caregiver is there to help you while ensuring your safety, provides peace of mind to both you and concerned family members and loved ones.
Providing exceptional hourly home care services in Sacramento, Carmichael, Davis, Roseville, Elk Grove, Fair Oaks, Lincoln, Granite Bay, Rancho Cordova, Folsom and surrounding communities.
A Better Living Home Care Agency makes it easy to get started with hourly home care services in the Sacramento area.
Home Care Services in Davis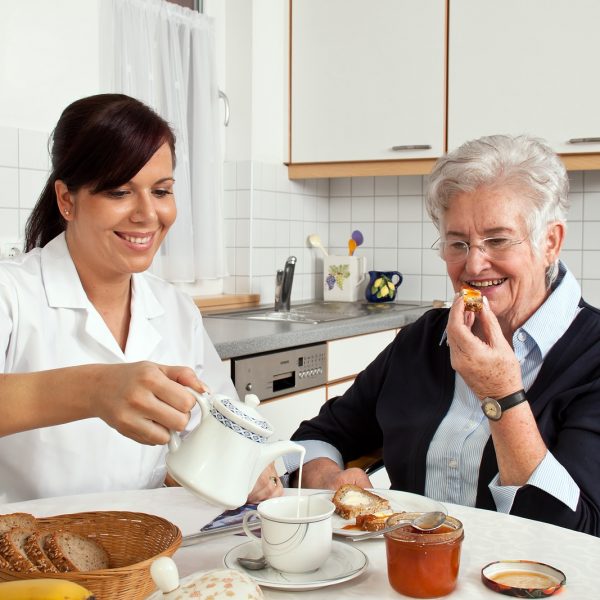 We love helping families find the right senior care solution. And those families love us. But don't take our word for it read our testimonials!
Is Home Care in Davis More Affordable Than a Nursing Home?
In-Home Care is an affordable choice for seniors who want to remain in their homes, instead of a facility. The Sacramento Area monthly cost in 2020 for a full-time In-Home caregiver is less than assisted living facilities and nearly half the cost of a semi-private room in a nursing home. 
A Better Living Home Care is a full-service home care agency committed to providing the best value in home care throughout Greater Sacramento.
In-Home Care is more affordable than nursing home care, and remains a flexible alternative.
The Cost of Home Care in Davis, California
Type of Long Term Care
Monthly Median Costs: Sacramento Area, CA
Source: Genworth Cost of Care Survey, 2020
In-Home Care (20 hrs/wk)
$2,665 per month
In-Home Care (40 hrs/wk)
$5,330 per month
Assisted Living Facility
$5,395 per month
Nursing Home (Semi-Private Room)
$9,946 per month
Nursing Home (Private Room)
$13,688 per month
What Types of Care and Services do Caregivers Provide in Davis?
Experienced Caregivers For:
Alzheimer's / Dementia Care
Parkinson's Disease Care
Elder Care
Cancer Care
Respite Care
Special Needs Care
Services Caregivers Provide:
Personal & Companion Care
Bathing, Grooming & Hygiene
Dressing, Undressing
Ambulation Assistance
Wheelchair/Walker Assistance & Transfers
Incontinence Care, Toileting Assistance
Ostomy & Catheter Assistance
Medication Reminders & Assistance
Tasteful Meal Preparation
Feeding Assistance
Light Housekeeping & Laundry
Driving/Arranging Transportation
Appointment Scheduling
Errands & Grocery Shopping
Comforting Companionship
Accompany on outings and to Social Engagements
Pet care
And many more…
If hourly in-home care by a compatible and compassionate personal caregiver or home care aide is right for you, please contact us to schedule a free in-home consultation, or to arrange care right away. Our Compatibility Guarantee ensures your 100% satisfaction. A Better Living Home Care is here to provide you and your family with the comforts and peace of mind you deserve.
What types of Caregivers provide Home Care in Davis?
We offer caregivers providing for all levels of caring aide and assistance. 
Certified Nursing Assistants
Certified Home Health Aides
Home Care Aides
Companion Homemakers
Personal Care Attendants
Senior Helpers
Does Medicare Pay for Home Care in Davis?
Medicare only provides coverage for "medical services". Home care services provided by home caregivers are not considered medical service by Medicare—they are "non-medical" services. Therefore, they are not a covered benefit of the Medicare program, and not eligible for payment.
After a hospital discharge, it's not unusual for our clients to have both a home health care/hospice agency provide medical services, and home caregivers providing the "non-medical" essential care and assistance that enables recovery at home and allows seniors to age in place.
Medicare covers inpatient hospital care, medical professional fees and other medical items for people who are age 65 or older. Medicare Part D also covers many prescription drugs.
Medicare may pay up to 100 days of skilled nursing home care or inpatient rehabilitation care under limited circumstances. However, custodial long-term nursing home care is not covered.
Medicare covers hospice care delivered in the home, a nursing facility or an inpatient hospice facility for people who are determined by a doctor to be near the end of life.
Medicare will cover medical services provided by a home health care agency, such as a visiting nurse, physical/occupational therapist, and other medical professionals after a hospital discharge.
Medicare will not cover the cost of non-medical home care (long-term) in the home, even though the services home caregivers provide may be essential to being able to receive home health care and hospice services.
A Better Living Home Care Agency makes it easy to get started with hourly home care services in the Sacramento area.