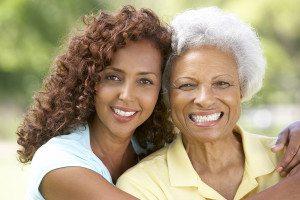 It can happen before you even know it. One day you realize that the unique parts that used to define who you are were put on the back burner and most of your life right now is being a caregiver. Whether it's something you chose or just fell into, caregiving does have its ups and downs. You may get to the point where you feel you've lost yourself in the care of your elderly loved one.
Of course you love your parent, you may even feel happy to be able to do this service for them. You gain much satisfaction from knowing you are able to give back and take care of them in their time of need. Yes it gives you positive feelings of doing something good, but it doesn't change that caregiving is a big job. It can take a lot of energy and you can sometimes feel you're losing your identity.
So how do you balance out all of these feelings and be able to retain your unique self? Consider moving from full-time caregiver to part-time caregiver. You can do this by garnering the help of other family members or you can simply hire an elderly home care service to send a professional caregiver to take over a few days a week for you.
The expert caregivers are trained and compassionate. They are willing to help and become a trusted companion for your elderly loved one. Most families who try out a home care service really love it. They are able to spend more time together as a family under less stressful circumstances as well as noticing their time with their elderly loved one is a higher quality time spent together because the housekeeping and personal care necessities have already been taken care of by the home care agency.
When you get into the stage of feeling you've lost yourself and need to get your life back on track, here are some strategies you can try:
Go out for a fun time with your friends. Social life is usually the first thing that gets put aside when you are busy with caregiving full-time.
Spend more time with other family members and re-acquaint yourself with them if you've lost touch.
Take up a favorite hobby you had to quit because you didn't have the time to keep it up.
Spend time alone meditating about your life, what your needs are, what you want to be doing and how you can reach your goals.
Talk to a special friend, one who will just listen while you get out all your frustrations.
Write in a journal or diary so you can download worries and get them off your mind.
If you or an aging loved one needs elder care in Granite Bay, CA area, remember Senior Home Care Services for all services needed. Call us at (916) 514-7006 for more information.