Elderly Care in Elk Grove CA
Older adults suffer from some degree of hearing loss as they age. In fact, about one-third of adults between the ages of 65 and 74 have a hearing impairment, while 50 percent of adults over the age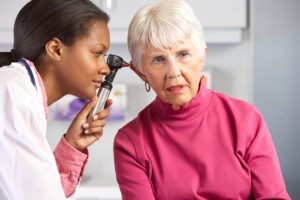 of 75 are affected with this condition. For those family members who are caring for elderly loved ones with hearing loss, there can be a significant barrier standing in your way of communicating with them. Your loved one may not be able to hear voices that have a high pitched sound or other sounds.
Even with hearing loss, there are other ways to communicate with the elder. Senior care providers usually have experience with caring for seniors with hearing impairments, so you may want to consider hiring one for your loved one. Learning more about their condition can also give you and other caregivers some insight as to what the elder goes through on a daily basis.
Causes
In some situations, the elder may have hearing loss due to having a family history of it. However, there are other ways this condition can develop.
Having otosclerosis. Otosclerosis occurs when the bones in the ear grow abnormally, preventing certain parts of the ear from working properly.
Head injury. If your loved one has suffered a serious fall or other accident that injured the head, the result could be hearing loss.
Ear infections. Otitis is a type of ear infection that can affect the adult's ability to hear.
Medications with ototoxic. Ototoxic can damage the inner ear. Medications with this ingredient include aspirin and some antibiotics. The effects of ototoxic can either be temporary or permanent.
Symptoms
Knowing the symptoms of hearing loss will give you a better idea as to whether or not the elder should see their doctor. Have your loved one ask themselves these questions in order to decide if they have a problem with their hearing.
Is it difficult to hear on the telephone?
Is it difficult to hear when there is background noise?
Do I find it challenging to follow a conversation when two or more people are talking?
Do the people I talk to everyday seem to usually mumble?
Do I usually misunderstand what is being said?
Are some sounds louder than others?
Do I usually have the TV volume up to high?
Fortunately, there are a wide range of hearing devices that can help your loved one become a part of the conversation once again.
If you or an aging loved one needs

elderly care in Elk Grove, CA

, remember Senior Home Care Services. Call us at (916) 514-7006 for more information.