Senior Care in Lincoln CA
It's not something that a great number of people actually think about, but the brain is a muscle. Anyone who has been told they need to get exercise on a regular basis to strengthen their muscles, keep them in shape, and more often understand why. A muscle requires exercise on a regular basis in order to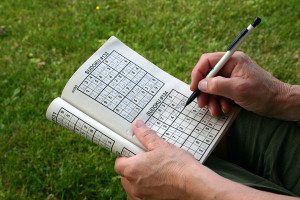 increase circulation, help to strengthen it, and even add more muscle in time.
As people get older, it becomes more and more difficult to add muscle. Eventually, when a person reaches an advanced age, they also might likely experience less strength in their legs, arms, and the rest of their body. While the brain is not going to add muscle mass with exercise, that doesn't mean it can't benefit from proper exercise as well. Experienced senior care providers, especially those who work through an agency often understand how important it is to stay in peak physical and mental condition to improve quality of life.
Because the brain is a muscle, exercise helps it to stay sharp and in peak condition. What type of exercise could the brain get? A person isn't going to exercise the brain by going for a jog. They're not going to get exercise their brain by doing jumping jacks, yoga, or even water aerobics. Exercise for the brain happens through mental stimulation.
Learning something new, paying attention to it, and storing it is providing exercise for the brain. Trying to solve various puzzles, especially crossword puzzles or anything similar that requires a person to concentrate and think carefully about solutions is also going to be beneficial in providing the brain exercise.
Watching television is a passive activity that doesn't give the brain any real beneficial exercise. It may stimulate certain portions of the brain from time to time, but compared to playing a game of chess, for example, where the brain is highly activated because the individual is thinking several moves ahead and strategizing, it's not going to be beneficial.
The benefits of regular exercise for the brain.
There are a number of tremendous benefits that the brain can gain by getting exercise. One of those is to help stave off memory loss and even reduce the risk of developing some forms of dementia, including Alzheimer's. For any senior who relies on professional care, exercising the brain on a daily basis will have benefits that last for years to come.
If you or an aging loved one needs senior care services near Lincoln, CA, remember Senior Home Care Services. Call us at (916) 514-7006 for more information.