The winter months can bring a whole new set of concerns for our senior loved one's safety. With the colder temperatures, we need to make sure they are eating healthy, staying warm enough, and are engaging in plenty of social activity to avoid becoming lonely.
If you are unable to stop into an aging parent's or grandparent's home frequently, you can have a neighbor, friend, or even a home care provider stop in just to be sure that everything is going okay. During these visits, you or a visitor will want to make sure that the temperature in the home is comfortable–keeping in mind that seniors can become cold much quicker than we can. You will want to be sure that the sidewalk and driveway are kept clear of snow and that sand or salt are put down in icy areas.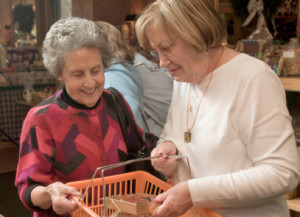 Although your senior loved one might not be going out as often, they still might need to make that trip to the mailbox or take out a pet, so keeping the walkways clear can prevent slips or falls.
Even if your loved one is just taking the dog out for relief, they should be sure to dress properly. A heavy coat, scarf, hat, gloves, warm socks and the proper footwear should be worn. It is important for your loved one to dress warmly when indoors too. During the colder months, homes can become drafty increasing the chance of catching a cold. Wearing a sweater and warm socks or slippers can help with keeping a healthy body temperature.
With winter, come the holidays. You can add some cheer by decorating your senior loved one's home for the holidays, of course always keeping safety in mind. If decorating with lights, be sure they are on a timer so your aging family member won't have to bend or reach to try to flip a switch or unplug them each night. If putting up a tree, a good tip is to set up an artificial one that is flame resistant and the decorations should be flame resistant as well.
This is also the time of year that we use our furnace or fireplace for heat. It is important to be sure that your senior loved one is safe by checking furnace filters and being sure that a fireplace is in proper working order and clean. If they will be using a fireplace, make sure that your loved one is fully capable and understands how to use it.
At the change of the season, check all of the batteries in smoke detectors and carbon monoxide detectors. Be sure that these devices are fully operational to keep your senior family member safe.
Although we can't be there every minute for our aging loved ones, we can take all of these precautionary measures to keep them as safe as possible.
If you or an aging loved one needs senior care safety in the Lincoln, CA area; remember there is "Senior Home Care Services" for all services needed. Call us at (916) 514-7006 for more information.