As the primary caregiver for a senior parent you will probably have to fall into a set routine to keep your parents life at home organized. As they say practice makes perfect and in a short time you will have streamlined many activities to make the use of your time more efficient. This allows you to not only be the primary caregiver but also can let you spend some time engaging in conversation or other activities with your parent. Plan on doing the same maintenance activities at home that you are doing at your parent's that day. That way, if you are going to be cleaning the kitchen and bathroom at your parents' home you will be dressed and prepared to do the same at home.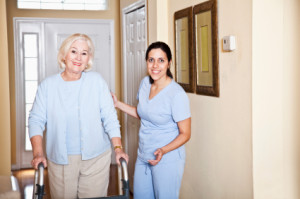 At your parents' home you will probably find it more efficient to prepare some meals in advance and/or make larger quantities at once and freeze some for later use. You can do the same thing at home to make your time at home with your kids more enjoyable. In addition to saving on preparation time you also save on cleanup time since you only have to reheat the prepared food the second time around. Starting again from scratch would involve pots, pans, and utensils needed to recreate the dish.
Since your time will be limited at your parents' house you can increase your efficiency by doing things like combining errands, then toward the end of the day making only one trip out to complete the errands. This will not only make your time use more efficient it will probably save you some money on gasoline. You can then take this planning and learn to use it at home when you have to run some errands saving more time and money.
Since you don't actually live at your parents' home and your time there is limited being more efficient can make each visit more productive. Since both the number of visits you can make and the duration of the visits are limited, efficiency pays off to get the most accomplished during each visit.
The time you get to spend with your family is also limited so it will pay to become more efficient at home. By taking what you learned as a caregiver and applying it to your activities at home you will have more free time to spend with your family. This will allow you to better fulfill the wants and needs of each individual in the family. As the children get older you can add quality time by having them help you with some tasks. Kids love to learn new things and having a few extra hands in the kitchen can help save time and energy.
While you and your parent are learning new ways to make them feel useful you can also have your kids participate in some of the chores that need to be done at home. Kids can do things like sort laundry, fold and put away clothes, and learn to clean up after themselves. This will help free up more of your time to spend on quality time with your family.
If you or an aging loved one needs caregiver services in the Roseville, CA area; remember there is "Senior Home Care Services" for all services needed. Call us at (916) 514-7006 for more information.