Okay, men around the country, it's time to listen up: November 1st is Men Make Dinner Day. Now, we'll just wait until the laughing fits have subsided, shall we?
Okay, now that you've gotten that out of your system; let's get serious, shall we? Yes, November 1st is Men Make Dinner Day and this is a great opportunity to provide a unique elderly care activity for many elderly individuals across the country. If you have an elderly loved one who needs some extra care at home, then you can suggest that their son or grandson make dinner for them. If the elderly patient is male and he doesn't make his own meals often, then this could be a great opportunity for him to do just that.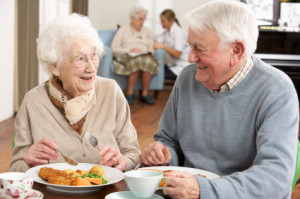 More than 80 percent of the elderly care providers in the country happen to be female, so why not have a man make the meal, if the care provider is the one who usually cooks for the elderly patient.
This year, November 1st happens to fall on a Friday, so if you are a professional who works from Monday through Friday, then you will have the entire weekend to recover from your cooking excursion. Don't worry, guys, it's not that painful and you could actually learn a lot in the process. Women, be sure to encourage the men in your life to read this article.
Now, let's talk about who would be cooking the meal this weekend. If your father is the person who receives elderly care, and he can get around in the kitchen, you might think that it would be a good opportunity for his caregiver to help him, but this would actually be better opportunity for a male relative to get over there and help out. If his son is in the area, or maybe even a son-in-law or grandson, then they can fumble their way through the kitchen effectively.
If the elderly individual is female, then her son, grandson, brother, cousin, or any other male relative could certainly come over and cook her a nice meal. You can make this a family affair, inviting the entire family over and allow the women to sit back and enjoy some quality time together while the men whip up a scrumptious dinner. Of course, if you do value the elderly care that your loved one receives, have a good backup plan ready in case disaster strikes, such as ordering Chinese or pizza to be delivered.
If you or an aging loved one needs elderly care services in the Davis, CA area; remember there is "Senior Home Care Services" for all services needed. Call us at (916) 514-7006 for more information.