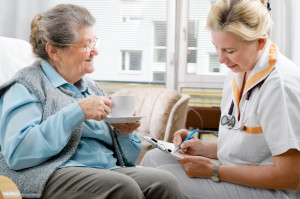 Part of providing quality senior care is the ability to forge positive relationships with the medical caregivers for the elderly patient. If you don't spend some time thinking about these relationships, and if you don't make an effort to ensure that they are the best that they can be, then the elderly patient may not be getting the best senior care possible.
What are some things that you can do to help improve relationships with medical caregivers?
One thing you can do is to make sure that you, or the elderly patient (assuming they are fully capable or relaying the appropriate information) share the most accurate information with the medical professionals. If you leave anything out, or deliberately withhold information, this will make things more difficult for the medical caregivers to do their job.
Another thing that you can do to help improve the relationships is to ask how the medical caregiver is doing. If this individual comes to the home of the elderly patient, and does so on a consistent basis, then finding out how they are doing will go a long way toward making sure that they don't need anything.
You can also be direct and ask if the caregiver needs anything that you may be able to provide. Senior care services are hired to help ensure that the elderly patient has everything that they need, and sometimes they might not ask for help from family members. That's why it can be helpful to ask directly if there's anything that you can do in order to help improve the level of care.
Be sure that you give the medical caregivers the time that they need to help improve the quality of life as well as senior care for the elderly patient. Some things will take time and if you are impatient, or the patient is not willing to offer them the right amount of time to ensure that the plan works, it could lead to problems with the long-term care plans.
While you may not be directly involved in the care of the elderly individual, it's a good idea to spend time building positive working relationships with the medical caregivers who are hired for senior care. If you think of other things that could be done to help improve these relationships, share them with others, including caregivers.
Senior care is not an island and the more you reach out and connect with others, the stronger it will be for the elderly patient.
If you or an aging loved one needs senior care in the Elk Grove, CA area, remember Senior Home Care Services for all services needed. Call us at (916) 514-7006 for more information.