Senior Care in Elk Grove CA
Keeping your elderly loved ones' home clean may be an important part of your senior care journey, but using potentially toxic chemicals that are damaging to the skin, eyes, and environment, and can have strong fumes that irritate the lungs and sinuses and lead to headaches may not be the best option. Trying to clean all of the nooks and crannies around the home and car with liquid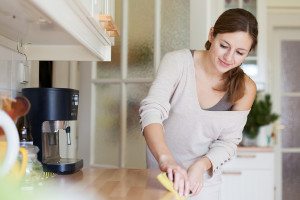 cleaners and rags can also be challenging and leave you more frustrated than satisfied with your cleaning results.
This simple recipe creates a substance that may look like a mess just waiting to happen when you first create it, but may quickly become your favorite cleaning tool for the home, your electronics, and your vehicle. It is simple and fun to make and use, and so safe that can actually double as a toy or a sensory therapy device, making it ideal for you to create and utilize with your aging loved ones and even your children. This "slime" uses only basic ingredients and can clean up dust, dirt, crumbs, hair, and other particles from even the tightest places because of its unique texture and malleability. Be sure to share it with your parents' senior health care services provider so she can use it to clean up little messes throughout the day.
What You'll Need
• 1/2 cup liquid starch
• 4 ounces clear or white school glue such as Elmer's brand
• 1/4 cup water
• Bowl
• Measuring cups
• Plastic bag
What to Do
• Pour the glue into the bowl and put the cap back on the glue bottle
• Add the liquid starch into the glue and use the tip of the glue bottle to mix these ingredients together. This prevents you from having to use a spoon and potentially not be able to get the glue off of it
• Add in the water
• Mix for a few seconds to start the ingredients coming together
• Use your hands to knead the material together, incorporating all of the water, and continue to play with it until it no longer sticks to your hands and is a soft, malleable texture
Once the slime is finished, you can use it for cleaning. You will notice that the texture is thick and "squishy", but also runs similar to a liquid. This means that it is fantastic at forming to different shapes of spaces. Try stretching out a piece and resting it on your keyboard. After a few seconds, peel it back. The slime will have settled down between the keys, pulling out all of the dirt and dust that can get down in there. The slime is also fantastic for cleaning the corners of center consoles in vehicles, window blinds, and textured surfaces that seem to hold onto dirt and grime. Use it until it is no longer picking things up, and then throw it away.
For smaller jobs, cut the batch of slime into pieces with a sharp knife or scissors and store what you are not using in a plastic bag to keep it moist and soft. To transform your cleaning slime into a fun toy or stimulation tool, add glow in the dark paint or glitter directly to the glue before adding the liquid starch.
If you or an aging loved one needs senior care services near Elk Grove, CA, remember Senior Home Care Services. Call us at (916) 514-7006 for more information.