Home Care in Granite Bay CA
National Family Week is May 3rd through the 9th and it's a good time to think about spending some extra quality time with an elderly loved one who may be relying on home care at this point in time.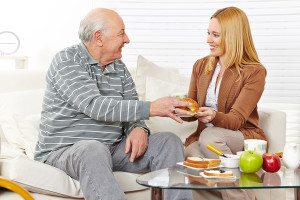 Why people require home care.
As seniors get older, they will likely experience a loss of strength, muscle mass, balance, vision, hearing, and the ability to take care of themselves in a safe and healthy manner. As a result, they may have a tendency to withdraw from various activities that are important to them. They may also feel unsafe within the comfort of their own home.
An experienced in-home care service provider can offer tremendous benefits for these seniors. These caregivers can support elderly and disabled individuals in a variety of ways. The most common type of caregiver in the situation is referred to as a home care aide. A home care aide may be able to stop by for just a couple of hours a day once or twice a week, if that's all the senior requires. They can also be hired for 40 hours of work every week, and even more. A number of different home care aides can be hired around-the-clock for those seniors who require a significant level of care.
Many family members take on this role themselves. In fact, according to the AARP, 44.4 million family caregivers are working in the United States right now, and most of them received no financial compensation for their effort.
For the millions of elderly and disabled individuals who rely on professional home care services, they may do so because they don't have family who live close enough to them, who are willing and able to assist them on a regular basis, or simply understand the benefits of professional, experienced caregivers.
For these individuals, getting a visit from a family member or multiple family members can be tremendously beneficial for emotional health and well-being.
In most cases, these seniors who rely on home care are likely living alone. They may have lost numerous friends in recent years and feel isolated in life. That can lead to depression and other emotional challenges.
If the family lives close enough where they could get in the car and visit them within an hour or two, it's a good idea to make time at least once a month. Once a month is not a lot of time to spend with loved ones, but it can be just the emotional boost the senior needs at this time.
If you or an aging loved one needs home care services near Granite Bay, CA, remember Senior Home Care Services. Call us at (916) 514-7006 for more information.