Elderly in home care providers should not let their elderly charges eat on their own. When seniors eat on their own, there are some issues that can arise. Even though many elderly adults live alone, they should have time to eat with other people and if you, the caregiver, are the only person who visits the senior on a regular basis, then you should be the one to eat with your senior.
Make Mealtime Important for Seniors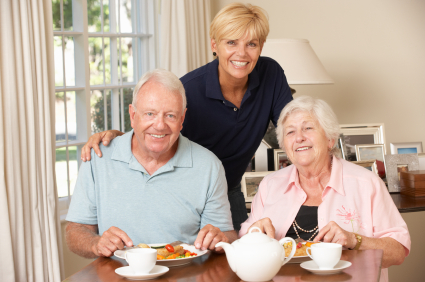 When seniors eat alone, they tend to not eat very nutritious meals. Preparing a meal for one person is time consuming, so many seniors and their in home care providers might just prepare something quick and easy in the microwave. However, when two people eat together, it makes more sense to eat better foods. Even if the caregiver and the senior just eat one meal per day together, they will both benefit from eating a healthier meal and having good conversation together.
Make Eating a Joyful Social Activity
Seniors who live in assisted living centers have the convenience of being able to eat in a social dining space. But, seniors who live on their own do not have the same joy. This is why it is important for in home care providers to take time to eat with a lonely senior. When seniors can eat with other people, they tend to be less likely to be lonely and develop problems like depression. Seniors often look forward to eating with other people because they can plan the meal; pick out something nice to wear, and have time to enter into good conversation.
If you are providing home for a senior who lives alone, there are a few important things to do to ensure that seniors will eat, whether alone or with a friend or caregiver. Many seniors appreciate having a well-dressed table, with a beautiful table cloth with fine dishes and flatware. Even having a vase full of fresh flowers can encourage a senior to sit and eat.
Encourage Neighbors to Dine with Seniors
An in home care provider should get to know some of the neighbors in the area and encourage them to visit the elderly person who lives alone. The caregiver can also speak to the senior's pastor to find churchgoers who can spend time with the lonely senior. Even being able to share one or two meals per week with neighbors or congregation members can give seniors something to look forward to each week. Church congregations often provide potluck dinners and invite local seniors to participate, too.
Fun Ways to Eat Well
Seniors will eat better if they can have meals prepared in advance, so if they can be delivered or made by a personal chef, seniors will eat well. The caregiver can also enjoy delicious food, too. Caregivers can also help their seniors stay positive and eat well by bringing them to walk the mall early in the morning and then encourage them to eat breakfast or brunch with the fellow senior mall walkers.
If you or an aging loved one needs caregiver services in the Sacramento, CA area; remember there is "Senior Home Care Services" for all services needed. Call us at (916) 514-7006 for more information.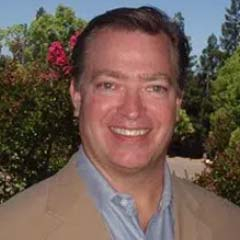 Latest posts by Jay Bloodsworth
(see all)