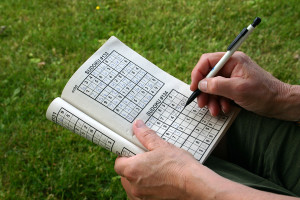 When your parent is getting along in their senior years, you might be concerned about their memory. It's a common sign of aging to start forgetting things, losing keys, not remembering people's names, and other important things. Of course, people of all ages forget things, but there are ways you can improve memory. Even though there are no guarantees to prevent diseases such as dementia, there are many simple ways your parent can sharpen their memory and help to prevent mental illness. Keep reading for some tips specifically for your elderly loved one that will help them keep a good memory for longer as they age.
Exercise Your Body, Exercise Your Mind
Physical exercise keeps your body in shape, and in the same way, mental exercises can keep your memory and mind in shape. Talk to your senior parent and their caregiver about doing crossword puzzles, reading the newspaper, taking different roads when driving, volunteering, or learning to play a musical instrument.
Another thing that your parent needs anyways that can sharpen their memory is socializing. If you've hired elderly home care and have a caregiver that does some household chores and helps your parent, they will have a friend to talk to during the day. Also make sure to have grandkids and relatives visit often. You can even find a senior's book club or other group for your aging parent to join to find friends their age that enjoy the same activates they do.
Stay Organized and Keep a Good Schedule
If your parent's house is cluttered and things are hard to find, it's going to be easier for them to forget things. Here are a few more tips:
Help them write down tasks, events and appointments on a calendar or in a notebook.
Limit distracting things; don't have your parent try to do too many tasks at once. Focusing on the information they want to remember will help. Even connect what needs remembering to one of your parent's favorite songs or something familiar.
If your parent wants to, have them repeat aloud to you the appointment to further cement it in their memory.
Work with your parent's caregiver to make sure they get enough sleep. This is a big factor in memory improvement or decline. Being well rested will definitely aid in helping your parent recall important things.
Decide on a particular place in the house for important things such as wallets and keys, and then always keep them there except when going out.
Have your parent do some physical exercise. Not only does this have the benefit of physical health, helping your parent sleep better, preventing disease, and numerous other good things, it also can keep their mind sharp.
If you or an aging loved one needs elder care in the Davis, CA area, remember Senior Home Care Services for all services needed. Call us at (916) 514-7006 for more information.