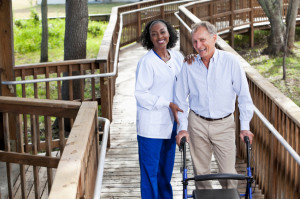 Do you know just how important your feet are? If not, then you're not giving them the due attention they deserve. No matter what you do for a living, if you walk around between sitting at a desk all day, get to your car, make dinner in the kitchen, or even go shopping, your feet take a lot of abuse. When it comes to senior care, you may find that foot health is one of those things that is placed on the backburner, left to wither and fade away as other aspects of the elderly individual's health take more precedence.
However, foot health is as important for seniors as it is for almost anyone else. And a lifetime of abuse will have taken a toll on their foot at this point in time. April is Foot Health Awareness Month, so that makes this month the best time to think about foot health and ensure that your elderly loved one has the best care for their feet.
How can you make a difference when it comes to foot health for your elderly loved one? There are 3 things that you can do to make a difference.
Make sure that they visit a podiatrist. A podiatrist is a foot doctor and this is a person who specializes in feet. A podiatrist will be able to look at and assess the condition of a person's feet and determine if they need orthotics, surgery, or anything else to help them walk better, be free of pain, and to reduce potential back problems as well.
If they require a walker, make sure they use it. A walker or cane may be important for balance, but it can also alleviate some foot pain and other problems. Some elderly individuals may not want to use a walker, but if it's good for their feet to do so, then they should do so.
Make sure they wear proper shoes. The right shoes can make all the difference in the world for someone's feet. If you notice that your elderly loved one is not wearing proper shoes, or they complain about their feet after taking their shoes off, get them to a podiatrist and then get them proper shoes or inserts that will help alleviate pain and discomfort.
While we don't think a lot about our feet, they take a great deal of abuse. When it comes to senior care, paying attention to the feet is important for many reasons.
If you or an aging loved one needs senior care in the Davis, CA area, remember Senior Home Care Services for all services needed. Call us at (916) 514-7006 for more information.