Your father and mother have been together for more than fifty years and when your mother broke her hip, you were more than impressed with how your father stepped up and took charge. He provided a great deal of elderly care for your mother, helping her get around the house when she was able to get out of bed, cooking meals, cleaning, and ensuring that she made it to her doctor's appointments.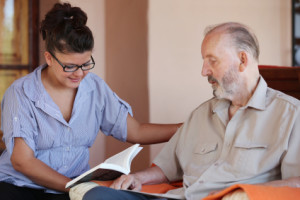 Now he is struggling with a number of health issues and while they are still getting around, they acknowledged that they could use to assistance of an elder care provider, at least for a few hours a day, and maybe not every day of the week.
Now that you've made this commitment, you want to make sure that they make the most out of the visits with the elderly care provider.
The most important thing is to make sure that the elder care providers show up when they are needed most. If your mother and father get up, get dressed, and have breakfast in the morning and they don't have any issues with this, then it wouldn't make sense to have the provider show up in the morning.
Instead, your parents may need assistance in the late afternoon. This could be the time when they bathe or cook dinner, which may involve more complicated processes. They may also be unable to drive themselves to the store or doctor's appointments, and this would be an opportunity to make the most out of visits with elder care services.
Too often, people make schedules with elderly care providers based on how it is best for them, not their parents or the elderly individual who needs the assistance. In other words, if you think that your parents would need assistance more in the morning because you think that's when they struggle the most, then you're basing the decision on ideas rather than facts. It also means that you're not going to making the most out of those visits.
Instead, you should focus on making sure that you understand your parents' schedule, how well they manage throughout the day, and what would be the ideal time for them to have elderly care services show up. When you understand the needs of your loved ones and you avoid making the decision based on your assumptions, then you'll be in a better position to allow your loved ones to get the most out of their elderly care service providers.
If you or an aging loved one needs elderly care services in the Carmichael, CA area; remember there is "Senior Home Care Services" for all services needed. Call us at (916) 514-7006 for more information.