Happy is what everyone wants to be, but because of life's circumstances, it doesn't always come naturally. There are people who are so good at changing their mood or seeing the positive within the challenges of life that they are able to always put on a happy face and cheer up everyone around them. Most people envy them. How do they do it?
Why choose happiness?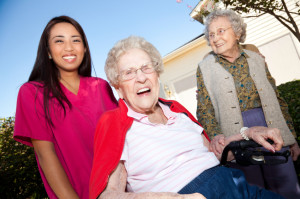 Experts say that our external world can't make us happy; it is a choice and we decide if we will be happy. We all know that it can be difficult to feign happiness in the face of crisis. Happiness does seem worth the effort, though – research studies have shown that of a group of journal writers, those who wrote words which were more positive lived longer than those who wrote things that were negative.
Psychologists say that positive emotions help us make more social connections and also help our brains work more effectively. A happy, relaxed person has greater intellectual capacity than one who is under stress.
Those who work in senior care services know that keeping an elderly loved one happy is a very important thing, because it promotes better health, emotional well-being and definitely a more enjoyable day to day life.
Tips to become happy
Express gratitude – write down things you are thankful for. Research has been done on people who keep daily gratitude lists. They not only felt better about everything going on in their lives, they also tended to exercise more, have less complaints and were on a higher level of feeling well.
Exercise regularly – getting physical is so good for the body! Endorphins are what they call feel good hormones. Exercising in the morning helps those hormones course through the body giving you an upbeat feeling all day.
Try meditation – if you've never done it before, now is the time to start. It helps to free your mind of mental clutter. Focus on your breathing for five minutes every day; it helps to relax your body and mind.
Help someone else – a random act of kindness can lift your own spirits more than you know. Try it today! When you focus on someone else's needs and feelings, it takes your worry off of your own.
The key to being happy more often is to train yourself to be happy. Do one new happiness habit like the ones listed above or create your own.
If you or an aging loved one needs seior care services in the Davis, CA area; remember there is "Senior Home Care Services" for all services needed. Call us at (916) 514-7006 for more information.