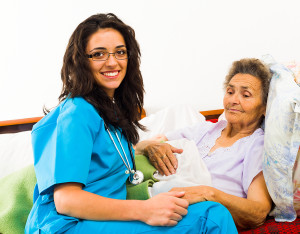 Providing elderly care for someone, whether it's a relative or a stranger, is a great responsibility. You want to make sure that you are aware of the conditions that this individual may be most susceptible to and what you can do to make his or her life more comfortable.
Depending on whether or not the patient had surgery, experienced an injury, such as a cut or abrasion, or any other issue that could lead to an infection or cause their immune system to kick into overdrive, then there is always a risk of sepsis. Many people who are elder care providers have heard about this condition, but not enough of them know exactly what it is. However, it is a common cause of death in infirm and elderly individuals.
Sepsis is the result of the body's immune system charging into overdrive in an effort to fight an infection in the body. This is common when the patient is recovering from surgery or other major health crisis. However, the body doesn't know when to turn off its defenses against a potential virus and the blood cells begin to injure other organs where the infection or bacteria are hiding out. This can cause serious damage to the body and can cause death.
Sepsis can occur within a person of any age and any relative health condition. They don't need to be ill already, but the reaction is due to invaders in the body, usually an infection or other bacteria. When the infection isn't defeated in a normal amount of time, or the threat appears greater to the body, then the immune system fires into hyper drive and this can lead to sepsis. If it's not treated properly and immediately, it can quickly turn in a potentially lethal condition.
For elder care providers, look for patients who may be confused or tired who had a cut or other type of infection recently. The symptoms tend to be non specific, but you can also look for fever, elevated heart rate, discoloration in the phlegm, and even sticky urine.
Every hour that sepsis is not treated increases the risk of death by sepsis by 8 percent. That's why it's important to be aware of this condition and to be on the lookout for it, especially if you're providing elderly care for an individual. If you have any questions about sepsis, be sure to speak to a medical professional immediately.
If you or an aging loved one needs elderly care in the Carmichael, CA area, remember Senior Home Care Services for all services needed. Call us at (916) 514-7006 for more information.