Senior Care near Davis, CA – Exercise for the Elderly
Being active isn't only for those looking to be in super shape or for people competing in marathons and triathlons. For many older adults, staying active and in shape makes it easier to manage their weight and mood. For others, it is a deterrent from serious disease like heart disease, diabetes, and even high blood pressure. It's a good idea to help your senior loved one add some movement and exercise into their regular routine.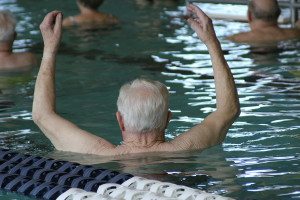 Staying Active as a Senior Citizen
Older adults and seniors should stay active as they get older. Not only are there countless health benefits, but more often than not, seniors who work out and perform exercises regularly are more likely to stay healthy as they age. The human body is made to move, and engaging in good exercise makes one happier as well as healthier. Since mind and body are connected, any seniors who may have depression or feel grief over a family member's death can benefit mentally from exercise.
This is especially true for those suffering from memory loss and disease like Alzheimer's disease. Alzheimer's is a type of dementia that affects a persons' memory, slowly degenerating cognitive functions.
While the onset of Alzheimer's disease can be slow and take years to see noticeable symptoms, things like a good diet and regular exercise can be the corner stone of staying healthy and managing a life-long disease.
How to Start Exercising
Below are some helpful tips a seniors can use to start and maintain an exercise program:
Develop a plan to do workouts that match your experience level. More frequent, easier workouts may be better than long, difficult ones
Consider hiring a caregiver that likes being active or even has a specialty with exercise for older adults. Sometimes doing something as small as taking a walk each day can make a huge difference
If a senior is exercising, make sure they have identification in case they get lost or experience a lapse in memory
Things like music and familiar places can be helpful for those suffering from memory loss. Doing exercises on a routine helps create balance and could help with some memory issues
Wear comfortable clothing that is easy move-in. If a senior is exercising outside, make sure they are dressed in the appropriate clothing depending on the weather
Replenish with food and water after exercising
Simple movement and exercise are great for people suffering from Alzheimer's disease and other degenerative memory diseases. By encouraging activity, they can help maintain their strength and their health. Hiring senior care services is also a great way to help your parent on a daily basis.
If you or an aging loved one needs senior care near Davis, IL area, remember Senior Home Care Services for all services needed. Call us at (916) 514-7006 for more information.