Elderly Care in Davis CA
There is much research that indicates having a pet such as a cat or a dog can alleviate feelings of depression or loneliness for seniors. Horses are another animal that can also provide benefits to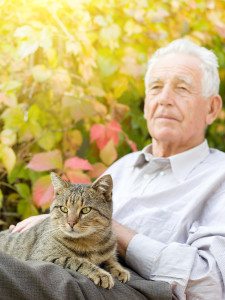 elderly people.
Physical Benefits
Equine therapy has been known to help kids with disabilities and other types of special needs.  This type of therapy using horses has also proven to be beneficial for seniors, especially those who struggle with balance or coordination. Riding a horse helps seniors improve flexibility and strengthens trunk muscles which aids in better posture. The physical benefits of riding a horse can help deter incidences of falling which can be detrimental to seniors. Riding a horse can even help promote healing of the neurological system which is extremely beneficial for those who have suffered a stroke or traumatic brain injury. The nice and easy movement of a horse can also help to relieve stress.
If equine therapy is not available in the community in which they live, seniors can find other places to ride horses. Many communities have horseback riding stables that offer riding lessons or there might be trail riding outfits. Before riding a horse seniors will want to keep the following in mind:
Level of fitness
Riding ability
Ensuring the horse is calm instead of spirited
It's also important for seniors to wear appropriate riding gear which includes boots to keep their feet in the stirrups and a helmet. There will also be other guidelines seniors will want to keep in mind when being around horses such as not standing directly behind a horse and always mounting it from the left side and dismounting on the right.
Psychological Benefits
Seniors don't necessarily have to ride a horse to attain the benefits these animals provide. Simply being around horses can help those receiving senior care overcome anxiety and depression. By learning how to halter, feed, and groom horses, seniors can increase their self-confidence and feel empowered to take on the challenges of life. If seniors are around the same horse often enough, the two will eventually build a connection which can help decrease feelings of loneliness.
Seniors might not feel comfortable around horses right away, especially if they have never been around them before. The size of a horse can be intimidating. If this is the case, there are miniature horses that provide the same type of psychological benefits. These miniature horses can be brought into the home for seniors receiving in-home care. Many communities have miniature horse farms and they can also be found at the zoo. Whether seniors are adventurous and want to get up on a horse or they are content to just pet one, there are many benefits horses can provide for them.
If you or an aging loved one needs elderly care services near Davis, CA, remember Senior Home Care Services. Call us at (916) 514-7006 for more information.